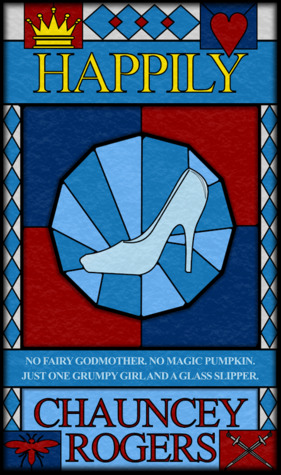 ☆☆☆3/4
If the shoe fits, wear it.
If it doesn't, make it.

Laure is a teenage street urchin just trying to get away. Where the rest of the world sees an enchanting love story, Laure sees royal incompetence and an opportunity to exploit it. She'll have wealth and a way out of a life she detests, if she can only manage to hoodwink the royal family and survive to tell the tale.
This ARC was provided to me by the author in exchange for an honest review.
God, I love retellings. Love, love, love 'em. I'm not sure you'd be able to tell based not only on the countless YA retellings I've already read and reviewed but of also the Top Five Tuesday I did last week about them. And I know that the fairytale of Cinderella is probably the most overused and slightly overrated retelling out there, I will still drop everything and fully commit to that retelling, loving every single second of it. Like, I watch all the A Cinderella Story movies for a reason. It is for that very reason that I was so excited to receive this ARC but it was not what I expected at all, in a good way of course. It retold the story from a view that I've always thought about and I loved how the original tale was weaved throughout the story. I don't think it's quite at the level of a Claire Legrand fairytale retelling, because frankly I don't think anything will ever beat hers for me, but it's a really good retelling in its own right. I'm gonna do my best to keep this as spoiler-free as possible but I promise nothing.
THE GOOD
The thing that made this retelling so great for me was its originality and the angle that it decided to take rather than what I usually get with retellings. I was definitely expecting the story to be something along the lines of "what if Cinderella didn't want to marry the prince" instead of "what about the rest of the people in the fairytale, what do they think about the glass slipper business?" Come on, I can't be the only one who ever wondered what was going on on the other side of the story. And now with this retelling, I no longer have to wonder. I also liked that the actual retelling wasn't focused on Cinderella's character at all and her slipper was more of a character than she was. I mean I love my girl Cindy but it was nice to see the spotlight on a different character this time around. I was also super into the entire narrative style of this book and the fact that it felt like a story within a story and it broke a bit of that fourth wall. It made the writing flow relatively nicely and also made it an easy read. If you think about it, it's a retelling within a retelling; it's retelling inception. The beginning in particular gave me some Flynn Rider and Tangled vibes and it set the tone for the entire book, meaning there was a lot of humour and a whole lot of heart. All of these things combined are what made me enjoy this retelling more than other ones I've read in the past and definitely separates it from the rest of the pack.
I really enjoyed Laure's character and I don't think this story would've been the same if it was about anyone else but her. I loved that she had all these different yet hilarious motives to go after the glass slipper and pull off what would be the biggest dupe of all. Like I said earlier, I always wondered how the other people reacted to the whole glass slipper business and what they thought about the prince marrying the girl who fits it. I think Laure had the right kind of viewpoint and reaction to it and that's what makes her seem relatable. Also her whole "grumpy" demeanour spoke to me on a spiritual level. I also feel like she went through some wonderful development but still remained true to herself and her character, albeit having a slightly better outlook on the world and understanding what it's like to be selfless. I loved seeing where her character went on this adventure and I like how she remained to be relatively imperfect. She's not the best person but she's a better person after what she went through, for sure.
The way that the original fairytale was woven throughout the story was hilarious and the reasonings/explanations seemed so logical that I couldn't help but laugh. Everything from why the slipper never fit anyone but Cinderella to how the prince didn't know what she looked like was hilarious and perfect and what the author did to explain it all made perfect sense. It's almost like we're bringing logic to such a nonsensical fairytale and it's some of the best explanations I've ever encountered.
THE BAD
I think this is more of a personal thing for me but I just didn't like how Laure felt love for Luc after spending three days with him and therefore it gave me insta-love vibes. I liked Luc's character and everything he represented, don't get me wrong, but I wasn't really a fan of how fast the relationship progressed over the limited timeline. But because we're in the same kind of timeline as the original fairytale I can be more accepting and understanding of it but it hit a slight nerve with me regardless.
THE BOTTOM LINE
This is one of the most unconventional and original fairytale retellings I've ever read and I think it should be a must read for anyone who loves these kinds of books. It might make you look at the story of Cinderella quite differently but in the end I think it'll be worth it. They should made a Disney movie out of this.
BONUS: how this book made me feel in a GIF
ABOUT THE BOOK
Title: Happily
Author: Chauncey Rogers
Release Date: April 3, 2018
Pages: 205 (eBook)
Goodreads
Until next time,
What did you think of the book? Leave a comment below!