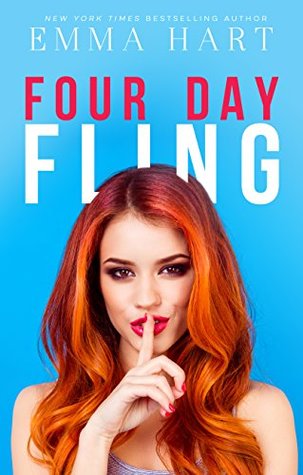 ☆☆☆☆
A standalone romantic comedy of epically awkward proportions, from New York Times bestselling author, Emma Hart.

Imagine this. You're ready to leave after a one-night stand, and you're figuring out how to—shock horror—leave your number and ask him to be your fake boyfriend for your sister's wedding this weekend. When he wakes up. Well, that happened to me. And over coffee and omelets, I found myself a date.

Which was how I ended up arriving at the wedding with a guy I knew nothing about. I didn't know his last name, or how we met, or how long we'd been dating. I didn't know where he grew up, what he'd majored in in college, or how many siblings he had. I sure as hell didn't know he was Adam Winters, hotshot hockey player—and not only my father's favorite player, but my little nephew's freakin' idol. Which means I'm in trouble. Big, big trouble. My mother is suspicious, my sister is bridezilla on crack, and my grandpa will tell anyone who'll listen about his time in Amsterdam's Red Light District. Four days. I have to keep this up for four days, and then Adam and I can return to our regular lives, where we don't have sex whenever we're alone and my family aren't interrogating him over his intentions with me.

At least, that's the plan. And we all know what happens to those.
Ok you know when you read a synopsis for a book and your first thought is "this is gonna be interesting" that you're in trouble. But the good kind of trouble. You all know how I love me my NA romance books and I'm always down for the ones that are comedic as well (The Hating Game, anyone?) but I don't think I was fully prepared for how much I was going to enjoy this truly laugh out loud romantic comedy from Emma Hart. I've never read her before and I kinda regret that because this book was my favourite kind of romance book and I was simply addicted to it. Sure, there were some technicalities that bothered me but all in all, I love the characters and the story so my 4 stars feel quite justified.
THE GOOD
As I've said, this book is 100% a romantic comedy and sometimes when you read a romance novel, a romcom is the best kind of romance novel. I love when I pick up the romcom types and it's almost like I can see it in my head as a movie. Sure, I can do that a lot with my other books but since we're starting to see the revival of romcoms in the film industry, this book is the perfect addition to that revival. Sometimes when I pick up a romance there can be so much seriousness and it's almost like the deep emotions are crushing me with their heaviness that I begin to long for something lighter and fun. Personally, I feel like this book kind of hits so many different points on the romance spectrum but it truly shines in its comedy. I have no idea how Hart came up with half of the things that Poppy said or thought but I swear, it has to be some of the funniest things I've ever read. Everything from your first introduction to Poppy, and in turn Adam, to the Dunn family and that whole dynamic, right until the very end, is full of hilarity. I like that Hart decided to go this route and not really take the romance genre overly seriously because based on my recent NA reads, seriousness is all I've been getting. But I want to see more books like Four Day Fling because it's like a breath of fresh air. And I think that's also why romcoms are having such a resurgence because people want to laugh but also be in love and see the fun side of love. The best thing about this book is that the goal was to have the reader enjoy themselves while reading it and I can guarantee that anyone reading this book will do just that. There are too many amazing one liners and shenanigans that it's impossible not to.
I truly, truly connected with Poppy on a sarcastic and sassy spiritual level. Like if I had to pick one character to represent how I feel on a daily basis, I guarantee I'd pick Poppy. From the moment she went into her history of awkwardness, I not only fell in love with her but I kept finding myself going "yes girl, same." There might be some people who find Poppy annoying and think her awkwardness is an "annoying quirk" but I'm not one of those people because I get Poppy. And honestly this book would not be the same without her. She not only brings a lot of heart to this book but she IS the heart of it. I love her quirky obsession with graphic tees with snarky phrases on them and I think it's hilarious how she has the perfect one for every situation. I mean, wearing a shirt that says "Not today, Satan" to lunch with your mom? Fantastic. And even though Poppy doesn't get along with her mom or seems like the kind of person who can take her family in small doses, which makes sense after meeting them all, you can still tell how much she cares about her family and how her sister will mean a lot to her regardless. I like how they're both such firecrackers but still get along on some level and love each other. I don't know, I just feel like Poppy is a very relatable and incredibly entertaining character.
Ok hello, this book has the almighty fake dating trope in it. That alone should be reasons for everyone to read it. And it's a perfectly executed trope because it's used in the best way: a fake wedding date. But with this trope we get a bit of a twist with Poppy's date actually being a super famous hockey player, one that her entire family is obsessed with and adds to the hilarious insanity of the book overall. But I feel like Hart took everything that's necessary for the fake dating trope and just knocked it out of the park. I liked seeing Poppy and Adam talk about the basis of their fake relationship and constantly have conversations about it, trying to get their story straight for the rest of the family, which included how and when to touch each other to keep up the act. But I liked seeing how the strategic touches eventually became intentional touches and legitimate flirty touches because they started falling for one another. And that's the beauty of the fake dating trope. *kisses fingers like an Italian chef* Beautiful.
Nothing, and I mean nothing, made me happier about this book than the fact that neither character professed love for one another by the end of it because seriously, who falls in love in four fricking days?! So thank you, Emma Hart, for making your characters and the relationship actually believable. My biggest pet peeve is when characters fall in love in like the span of weeks, aka the dreaded instalove. But Hart didn't do that and instead just had her characters want to try a real relationship and see how things go. I also really liked how trying a real relationship was something Poppy and Adam actively talked about and even though they both wanted to try, they thought the other didn't want to and again, that adds to the beauty of this relationship. There were just so many things about this relationship that did it for me. And then we get a beautiful epilogue. I was truly worried that I'd see some kind of instalove by the end of this, especially given how the title was Four Day Fling, the outlook did not look good. So I'm glad that Hart proved me wrong and did what barely any NA authors seem to do these days.
THE BAD
Even though there were dual POVs in this book, it wasn't balanced enough for my liking. And that made me sad because I really loved Adam's POV and thought that he had a really interesting mind/voice. But a lot of emphasis was on Poppy's POV and while I did love her, I wanted to see more of Adam. He was so different from the typical NA athlete protagonist that I see throughout this genre and I wanted to get to know him better. So I guess that I just wish Hart thought her narrative through a bit more and provided a bit more balance. It's just a pet peeve of mine so this might not be a big deal to others like it is to me.
I have no idea if this was because of my ePub file, but this book did not seem all that thoroughly edited to me. There were a lot of mistakes throughout the book, whether it be spelling or grammar, and there was even one entire page where not only Adam's last name was wrong (twice!) but Mark was referred to as by a totally different name (again, twice!). Again, I don't know who's really at fault here but it's not a good thing either way.
THE BOTTOM LINE
There is so much seriousness in the world of romance books right now and Four Day Fling is the perfect pick-me-up. Not only does it have an abundance of hilarious shenanigans and borderline insane characters that constantly keep you on your toes, but it has so much heart that it's practically bursting. If you're like me, this is gonna be a book you'll want to read over and over and over again.
BONUS: how this book made me feel in a GIF
ABOUT THE BOOK
Title: Four Day Fling
Author: Emma Hart
Release Date: July 24, 2018
Pages: 297 (eBook)
Goodreads
Until next time,
What did you think of the book? Leave a comment below!