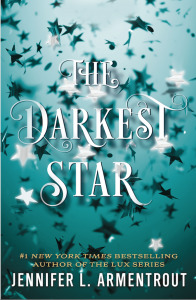 ☆☆☆3/4
When seventeen-year-old Evie Dasher is caught up in a raid at a notorious club known as one of the few places where humans and the surviving Luxen can mingle freely, she meets Luc, an unnaturally beautiful guy she initially assumes is a Luxen…but he is in fact something much more powerful. Her growing attraction for Luc will lead her deeper and deeper into a world she'd only heard about, a world where everything she thought she knew will be turned on its head…

#1 New York Times, USA Today, and internationally bestselling author Jennifer L. Armentrout returns to the universe of the Lux in this brand new series, featuring beloved characters both new and old.
If you had told me a year and a half ago if I would be in love with a series that about aliens I would've thought you were insane. Aliens were not my thing. That is, until, I started reading this oh-so lovely author and she changed my entire life, basically. First came the Lux series, which was great, and then came the NA spinoff, Obsession, which focused on the other alien species, the Arum. Now, we have the latest spinoff series which focuses on the Origins and I for one am quite glad to learn more about them. This universe is starting to become so well-rounded and every time I ask for more, JLA delivers. I was a bit skeptical at first, since I didn't know what to think of Luc, but I give everything a try. And I'm glad I did. While this book wasn't as stellar as Obsidian was for me on a personal level, I still immensely enjoyed it and believe it's a solid start to a new series.
I kind of need to reveal some spoilers in my review so a SPOILER ALERT is now in effect. I apologize.
THE GOOD
We all know how much I love JLA's writing so I don't have to talk about that, but I do want to note how well-developed and explored this universe is. As I've said, the original series was mainly focused on the Luxen with side information of the Arum and Origins in pockets here and there. I loved when she wrote the NA spinoff that allowed us to explore the Arum even more, and made me appreciate and understand them more than I did prior, and I feel like she's doing the exact same thing here in this series but about the Origins. I feel like the Origins are this entire thing that no one yet fully understands and there will always be something new to learn about them. To me, this also means that there's a lot JLA can do with this. There were hints that not all of the Origins were destroyed and potentially that Daedalus is starting up again, or that they were never eradicated either, which shows me that there are a lot of open ends and plot lines that we could take here. It definitely feels different from Lux in the fact that it focused on the war between Luxen and Arums, and Luxen on the whole world, and I feel like the Origins will have a different fate. I could be wrong, since I usually am, but I think that whatever JLA decides to do with them will be interesting and different, for sure.
I really enjoyed Evie's character, even though Katy will always own my heart and be my favourite JLA girl, I still had a lot of love for Evie. I liked her personality and I could defintiely see how different she was from Katy, which is something I always look for whenever authors write new series/spinoffs; I want the female characters to have different voices and personalities and not be cut from the same cloth. I think if I put all three female protagonists from this universe together, Evie would be that perfect mashup of Katy and Serena, but potentially leaning more towards Serena. I liked that she's (mostly) human and yet still wants to help the Luxen and the Origins, even though there's no way she could fight them herself. I like that Luc made her understand this and didn't just say this because she's a girl and can't fight but it's because it's literally impossible for her to fight an Origin. I hope she remains human and not go through the same thing Katy went through because that would just be repetitive and I'm not in the mood for that, which is why I see her more as Serena who remained a human the whole time. I also want these girls to hang out in the near future, ok thanks.
The thing that worried me about this book was that I'd have to see Luc with a girl that wasn't the same one he'd been trying to protect in the previous series. I didn't think it would've been fair to him, to immediately throw him into a new relationship after losing someone he seemed to really care about that. Thankfully, Evie turned out to be that girl, which is what I hoped for. Usually, I hate when these kinds of plot devices are used, how the person has some kind of memory loss and gets this new identity but everyone still knows who they used to be. I feel like the reason I enjoyed it here was because of how JLA handled it. The biggest thing was how Luc understood that his girl, Nadia, was gone and he would never get her back even though that girl was still Evie. He understood that she was different from when he knew her and just because he remembered her didn't mean that she remembered him. I like how he respected her new identity and never pressured her to remember him in any way or be the person she used to be. I also respect how he didn't go any further with her, romantically, when Evie was confused about who she was and he wanted to give her time to figure herself out. The romance between them had that sense of nostalgia for Luc and exciting newness for Evie and it looks like a good basis for moving forward.
There was some good social commentary with the humans and the Luxen communities, and how they're beginning to protest their very existence, wanting them to be segregated in their own areas again and not have to interact with them. I felt like it was a good example of commentary for what's going on in the world right now and it's obivous to see how similar the situations are, and how equally wrong they are. Mind you, it'd be a bit more powerful if there was more representation within the Luxen community but maybe we'll get more of that later. I hope.
I enjoyed all the new secondary characters but I'm very satisfied with seeing both Archer and Daemon again. Wish I got a bit of Katy but I got a good amount of Daemon to keep me going. God bless.
Look at that cover! My goodness! It's so beautiful! Whoever is designing her new covers is doing an AMAZING job. (Sidenote: have you also seen the cover for Storm and Fury? It's gorgeous!)
THE BAD
My one issue here is that we didn't get a POV from Luc while I felt like we deserved it. If this is a series about the Origins, and Luc is the main male protagonist, and we haven't seen Luc for about 4 years (in this world), don't you think we should've gotten a bit of personal insight on his character? I do, at least. The thing with Luc is that any other time we've encountered him, he's been this 15 year old kid that literally no one could get a good read on. We knew he was probably the most powerful Origin, which is now confirmed, but we never knew what was going on inside him and this would've been the perfect opportunity for that. I think the reason I can't bump this up to 4 full stars is the lack of Luc's POV. We needed his mind in this new series and while I'm hopeful we'll get to him in the next book I just feel like it would've been that much more enjoyable with his mind in the mix. I have a good understanding of his character now, and I really love what I've seen, but I want more from him personally.
Like I said, I didn't get to see Katy and I'm sad. I also didn't get any Hunter but hopefully we can get more of the Arum and his hot alien ass in the next book. I'm a bit shocked that the Arum aren't common knowledge to the humans so maybe we can explore that world further as the story goes.
THE BOTTOM LINE
Clearly, this is the perfect book for fans of both JLA and the Lux series. While it's not necessary to be either, it's something I definitely recommend. The new characters are both lovely, the plot seems to be branching out into a very strong direction, and this wonderful world keeps expanding more and more and I couldn't be happier.
BONUS: how this book made me feel in a GIF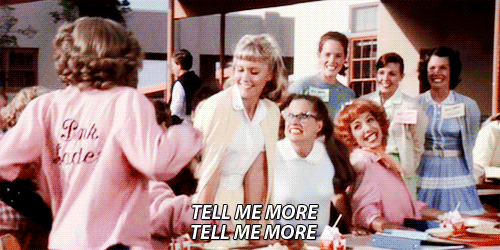 ABOUT THE BOOK
Title: The Darkest Star (Origin #1)
Author: Jennifer L. Armentrout
Release Date: October 30, 2018
Pages: 368 (Hardcover)
Goodreads
Until next time,
What did you think of the book? Leave a comment below!