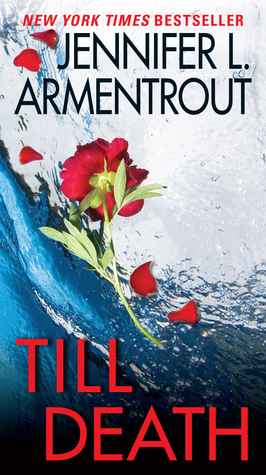 ☆☆☆☆
In New York Times bestselling author Jennifer L. Armentrout's gripping new novel, a young woman comes home to reclaim her life—even as a murderer plots to end it. . .

It's been ten years since Sasha Keaton left her West Virginia hometown . . . since she escaped the twisted serial killer known as the Groom. Returning to help run her family inn means being whole again, except for one missing piece. The piece that falls into place when Sasha's threatened—and FBI agent Cole Landis vows to protect her the way he couldn't a decade ago.

First one woman disappears; then another, and all the while, disturbing calling cards are left for the sole survivor of the Groom's reign of terror. Cole's never forgiven himself for not being there when Sasha was taken, but he intends to make up for it now . . . because under the quirky sexiness Cole first fell for is a steely strength that only makes him love Sasha more.

But someone is watching. Waiting. And Sasha's first mistake could be her last.
Can we just take a moment and slow clap it out for Miss JLA for this book? For real. I can promise that I had ZERO expectations for this book and, if I'm being honest, it's one that I've been putting off until I was basically at the end of her book catalogue. I don't know really know why, either. I remember seeing it in the store one day, fully prepared to buy the title, but when I actually held it I judged it because it felt more like a mass marketed book and I just immediately thought it would be bad. I judged it and now I feel incredibly stupid. I missed out on such an incredible books for months because I didn't like how the book looked. Yep, I'm that person. But now I am clearly changing my tune and I want everyone to know how spectacular this book is. It had so many fantastic elements that not only filled me with happiness but kept me from putting this book down. Part of me wants to bump up my rating to 4.5 stars but I'm not sure if I can fully commit to that? Even if it deserves it? It was so great, I'm telling you.
THE GOOD
Going into the book, I was hoping that I would get a dual POV between Sasha and Cole, since I'm greedy and that's what I love, but honestly? It would not have worked with this story. Sure, seeing what Cole was thinking would've been nice but it's not necessary at all. This was solely Sasha's story to tell and I really enjoyed her voice and everything she had to say. That being said, JLA did something with the overall narrative that surprised me and really made this book stand out from her other thrillers. Every so often, the narrative would switch to the mind of the killer's and it would give the reader an update on what he was doing and how he was still watching Sasha's every move. The first time it switched to him, it just chilled me to the bone. It was almost like we were caught in two different "worlds" of how on one hand, we have no idea who is behind the new killings and copying the previous serial killer because of what Sasha is telling us, but on the other hand we know that it's the same person as before, because we have pieces of his narrative. It made the plot that more chilling and suspenseful and also helped the thriller reach its full potential. It's definitely different than what I've seen from JLA before and I thought it was great.
I really loved the overall plot of the story with all the kidnappings and killings and all that jazz, but I found that Sasha's story of surviving was a big standout to me. To be honest, the stories where JLA tells stories of survivors have always been some of my favourites and she always approaches these subjects in a great way and therefore her female characters come out stronger and better than before, constantly growing and evolving. The same can be said for Sasha. Though she gets over her trauma off-book in the last 10 years of the story, there is still room for improvement in this book and I loved seeing it. In the beginning of the book, she talks about how she learned to become intimate and trusting with men again, but getting married is something she could never commit to. There's also a lot of mention of how she kept pushing people away and how she had a concrete wall built up that no one could get through. But by coming home and seeing Miranda and Cole again, letting them both back in, especially Cole, was something that made me proud of her. The place where she was in the start of the book is so different than where she ended up and I can say it was Cole who did this, and his influence was great, but Sasha made those decisions to trust him on her own when she was ready. There's also one quote in particular that made me love Sasha's story, and it was how Cole was talking of how he would protect her from this new serial killer but Sasha responded by saying she would protect herself. And she did. She had already been through the worst, worked through her trauma for years, and is a stronger person because of it. It was a great message and Sasha is a wonderful character.
I'm always a sucker for second chance romances and I found this romance to be utterly perfect. There are times with this trope where one of the characters has been essentially waiting around for the other person to come back in their life because they've been hung up on them for years, never dating other people or falling in love again, and that can get annoying. Like, you've seriously been alone this whole time? Expecting this person to come back just because you want them to? Sure. Whereas here, both Sasha and Cole tried to move on with their lives because they believed that the other person was gone and had moved on themselves. There really was no reason to wait around for them to come back so they moved on. But when they finally reconnected after those 10 years, their feelings for each other came back and it was then that they realized that they were getting their second chance and that this is where they belonged. It made their love feel more realistic and I loved seeing how much they cared for each other. Cole never let Sasha push him away again and cared for her the way she deserved, and Sasha opened her heart back up to Cole and trusted him again. They were such a lovely couple and gave me so many warm and fuzzy feelings.
Hands down, the best thing about this book and what made this thriller stand out from JLA's previous ones was the reveal of the killer and his motives. It's killing me that I can't reveal it right now but it's that kind of bone chilling reveal you need to experience on your own. However, I need to say how this serial killer was perfect. They were the kind that is just a serial killer because they want to. There's no real rhyme or reason for it, no kind of traumatic excuse or "you did this to me" kind of thing. They had the true makings of a sociopath and it's probably one of the most terrifying killers I've experienced in a thriller. It took a slightly obvious choice and turned it on its head completely and still managed to surprise me.
Bonus points for this book's cover actually being pretty? It doesn't make the most sense but it's pretty and not embarrassing at all.
THE BAD
I could be petty and say how Sasha and Cole's feelings became too intense too fast but it's not the biggest deal to me. I will complain about how there was a week's worth of quality content that I missed out on after the killer was found out and I think there was a bit that could've been done in that week rather than just skipping it altogether. But, as we know, I'm petty and greedy so it's not a big deal.
Part of me wishes that we had more of the killer's POV because it added to the terror and suspense of the whole story. Or at least more history and flashbacks to the first time Sasha was taken. It might've made the story more meatier and well rounded, in my opinion.
THE BOTTOM LINE
I might not be a connoisseur of thrillers, but this might be one of the best I've ever read. It hit so many amazing marks, had solid characters, and still made time for a romance that made sense to the story rather than being thrown in just so it can venture into different genres. This is the exact reason why JLA needs to write more thrillers. It blew her others out of the water completely. Whether you're a fan of hers or not, you will not be disappointed by this book.
BONUS: how this book made me feel in a GIF
ABOUT THE BOOK
Title: Till Death
Author: Jennifer L. Armentrout
Release Date: February 28, 2017
Pages: 400 (eBook)
Goodreads

Until next time,
What did you think of the book? Leave a comment below!