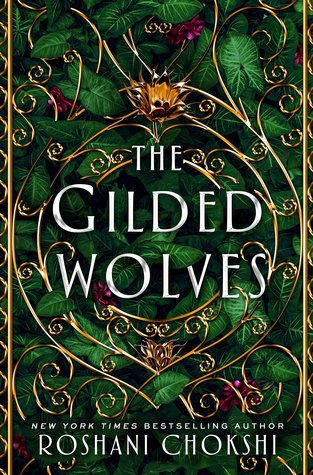 ☆☆☆☆
Set in a darkly glamorous world, The Gilded Wolves is full of mystery, decadence, and dangerous but thrilling adventure.

Paris, 1889: The world is on the cusp of industry and power, and the Exposition Universelle has breathed new life into the streets and dredged up ancient secrets. In this city, no one keeps tabs on secrets better than treasure-hunter and wealthy hotelier, Séverin Montagnet-Alarie. But when the all-powerful society, the Order of Babel, seeks him out for help, Séverin is offered a treasure that he never imagined: his true inheritance.

To find the ancient artifact the Order seeks, Séverin will need help from a band of experts: An engineer with a debt to pay. A historian who can't yet go home. A dancer with a sinister past. And a brother in all but blood, who might care too much.

Together, they'll have to use their wits and knowledge to hunt the artifact through the dark and glittering heart of Paris. What they find might change the world, but only if they can stay alive.
There are very few times where I come across a book and think "wow, this book was written with me specifically in mind" but when I was not even a quarter of the way through The Gilded Wolves, I knew that this would be one of those books that feel written for me. And this time it's so easy to explain why! The characters are amazing, the overall plot is intriguing and paced wonderfully, and the time period in which it's set in was beyond brilliant. I have never read a Roshani Chokshi book before this one but I know that I would love to read anything else by her in the future. While it's super easy to compare this book to the masterpiece that is Six of Crows, in order to really see this book for what it is you have to separate the two. I know, it'll be hard to do that, since they both have heist plots and a merry band of misfits, but they're also completely different. Once I get into things, you'll be able to see what I mean. All I know is that I loved this book and cannot wait to see where the rest of the series is gonna go and I might have a new YA Fantasy obsession.
THE GOOD
The best thing, for me specifically, about this book what the overall setting and historical influence that the author heavily utilized and had me nerding out constantly. We all know what a big history nerd I am (I have a BA in it, hello) so seeing how Chokshi not only used such a fascinating piece of history as her backdrop but had a historian as a main character and constantly talk about a piece of history relevant to each of the characters made me beyond happy. And even though there's all this historical influence, it doesn't read as a historical piece of work or as something that would fall into that particular genre. It's not like Chokshi was taking a specific historical figure or family or even and taking those players and writing them in a new way. But rather, she was taking this period in Paris 1889 and centred her own story around the Exposition Universelle, in a way making that a character on its own. And I think what I loved most, especially after reading the author's note, is how her goal is to delve into these specific histories of Paris and the characters and show how in this period that was known as a beautiful and glittery era but shows the other side of this era and how truly ugly it was. I'm honestly in awe of how much thought Chokshi put into this book and how her world building is more of a history building and I'm just so happy with what's happening and I can't wait to see where else we're gonna go here.
The characters in this book, just like in Six of Crows, are a merry band of misfits and are all so equally wonderful that it's hard for me to pick a favourite. But unlike The Dregs, these characters are not a gang, nor are they particularly ruthless criminals, but are more of a family that has come together because they had no where else to go, or that those in their previous lives didn't want to claim them but Sèverin would because he knew what that felt like. There are times where you see how Sèverin, who we can chalk up as the leader, only cares about getting what he's owed and that's where the comparison to Kaz Brekker comes in, but that's pretty much it. He owns and runs a beautiful and successful hotel and is mostly scheming and planning on acquiring various historical treasures and pieces because of his detest for the Order of Babel, and if he has them then they won't. And that it'll lead to earning his inheritance. Then there's Laila, who is a beyond talented dancer but constantly questions her life and if she truly is real, and joins Sèverin in hopes he can help her find a book that can potentially fix or save her. Enrique is their resident historian, claimed by Sèverin when an esteemed Filipino group wouldn't claim him due to his mixed heritage and favouring of his Spaniard father, but works with Sèverin to prove his worth and what they're missing. Zofia is their brilliant engineer and a bit of a pyromaniac, which I am obsessed with, and is constantly looked down on primarily for being Jewish and how the Russian Tsar is openly hating of them, so she flees to Paris for schooling but is taken in by Sèverin upon her expulsion (which is actually truly heartbreaking once you read about it). Finally, there's Tristan who was more or less Sèverin's foster brother from his "one of seven fathers", and who Sèverin swore to protect from that moment on. These characters all come from places that didn't want them or wanted to hurt them, but not with Sèverin and their main motivation for these acquisitions is to prove their worth, in a way. They all bring unique qualities to the team and all know their strengths and weaknesses and it's the kind of team that you can tell truly is a family. They have amazing dynamics and I love all of them so much.
I honestly expected a more serious tone and the kind of "proper" writing and tone I get from other books set in similar periods, but the writing and conversation style of each character was so wonderful and easy and it had such a dramatic and sassy tone that I could not get enough. Every character had their own distinct tone and snark to them and I had to put the book down so many times because I was laughing so hard. I feel I connect better to books when they take this route, to make jokes and be a bit over-the-top dramatic but not in a way that its trying too hard. It's the kind of sass that I've been known to have, and what I answer and connect to, and it's a big part of why I loved it. I'm a bit tired of dark and bloodthirsty YA's so bring on the snark and humour.
The biggest theme of this book is that sense of belonging and identity, and both of those go hand in hand, and because of this theme it allows Chokshi to up the representation and it was done in a way I don't think I've ever seen in YA. There's the idea of mixed heritage with Sèverin and Enrique and how one has dirty blood and therefore cannot be such an important Order figure and how neither bloodline really wants to claim the other. With Zofia's character, her identity revolves around her religious beliefs and how she's looked down on for her Jewishness and the prejudice/anti-Semitism that is not only in Russia but Paris is made clear by Chokshi and is one of the things she's working hard on discussing in this series. Not only that, but I also feel like Zofia is autistic, though it's not clearly stated, but how she doesn't understand jokes and doesn't do well in social situations and finds comfort in numbers and counting makes me think that of her, and I think it's another representation that needs to be normalized in YA. There's also discussion of sexual identity, particularly for Enrique, who has pushed away his thoughts of other boys, in addition to girls, because of his own religious beliefs but begins to think that maybe it could be ok. I love these questions and themes being explored and it gives this book so much more depth and meaning on top of that entertaining factor of the heist/mission.
I'm sorry but Hypnos needs his own point. He has to be the most dramatic, chaotic character I have ever encountered and I love him like a mama bear loves her cub. At first, I wasn't sure what to think of him but the more time he spent with this group the more I got to see him truly. He's incredibly dramatic and has some of the best one-liners I've ever seen, but he's also as insecure and lonely as these characters and wants to be found by this family. I also love how he wants to prove his worth, particularly to Sèverin, and become part of this team. He and Sèverin are similar but also different and I think their dynamic can be explored in a great way. But what really sold me about Hypnos is when he made a joke with Zofia and she said that she doesn't understand jokes, and how they make her uncomfortable (I think), he responded by telling her he'd be more respectful of that in the future. He might be chaotic, but he's also caring and genuine and perhaps my new favourite YA character.
That cover though. Wowza.
THE BAD
My only problem is that, even though I am obsessed with the characters and the history and all that jazz, there were times where the writing stumped me a bit and had me rereading sentences because I wasn't entirely sure what happened. There was a bit of a lack of clarity and I couldn't tell if I missed something by reading too fast or if little tidbits were just missing in general. However, this might just be a me thing and someone else could find no issues with the writing. But I would just like a bit more of clear and concise writing in some places.
On one hand I know what the title means, but on the other hand it doesn't entirely make sense and I think it's what brings up this comparison of this and Six of Crows. It could've/should've gone in a different direction. That's my only hot take on this.
BOTTOM LINE
If you loved Six of Crows, you should definitely check this book out. I like to call it Six of Crows' more dramatic, sassier cousin. But also, don't compare them too much. While this book does centre around a heist, or acquisition, it goes beyond a heist and becomes so much more than that. Exploring the ugly side of history and the theme of identity and belonging, this book is such an entertaining ride that I don't think you will regret reading. Read it for the sass and the chaos. Trust me.
BONUS: how this book made me feel in a GIF
ABOUT THE BOOK
Title: The Gilded Wolves (The Gilded Wolves #1)
Author: Roshani Chokshi
Release Date: January 15, 2019
Pages: 388 (Hardcover)
Goodreads
Until next time,
Twitter ♡ Instagram ♡ Goodreads
What did you think of the book? Leave a comment below!