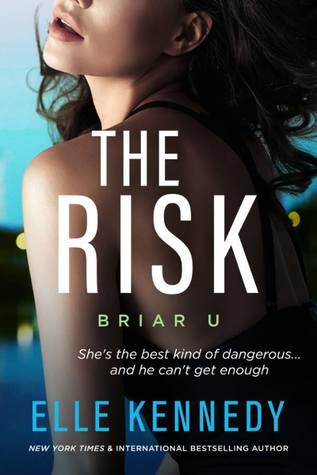 ☆☆☆☆
Everyone says I'm a bad girl. They're only partly right—I don't let fear rule me, and I certainly don't care what people think. But I draw the line at sleeping with the enemy. As the daughter of Briar's head hockey coach, I'd be vilified if I hooked up with a player from a rival team.

And that's who Jake Connelly is. Harvard's star forward is arrogant, annoying, and too attractive for his own good. But fate is cruel—I require his help to secure a much-coveted internship, and the sexy jerk isn't making it easy for me.

I need Connelly to be my fake boyfriend.

For every fake date…he wants a real one.

Which means this bad girl is in big trouble. Nothing good can come from sneaking around with Jake Connelly. My father would kill me, my friends will revolt, and my post-college career is on the line. But while it's getting harder and harder to resist Jake's oozing sex appeal and cocky grin, I refuse to fall for him.

That's the one risk I'm not willing to take.
I think by this point we all know I would sell my soul not just to Elle Kennedy but to the entirety of the Off Campus universe. This series has always been my comfort series, the books that I can always turn to if I need cheering up or I'm just craving a good, fun NA read. I know that some people don't understand this and don't entirely see why Off Campus means so much to me but it just does. And because it always makes me feel good and happy, I will basically never be disappointed by any book Kennedy comes up with and this book is further proof. I loved Brenna the minute I met her in the previous book and was essentially counting down the minutes until I could meet Jake Connelly in all his glory. And it was all worth it. The book made me laugh, it made me cry, and it made me fall deeper in love with it all. Was it absolutely perfect? No. But because of how it made me feel, I have no problem giving it 4 stars.
THE GOOD
Honestly, the chemistry between Brenna and Jake was off-the-charts amazing and is what really made this book for me. In the previous book, these two had really only had two major interactions but even from something as simple as that we could all see the chemistry flowing between them. We could feel the spark, the potential of becoming something fantastic. And that's what happened. Brenna is the kind of person who needs someone who will give it back just as good as she can give it, and Jake is that person. He goes along with her little games, he pushes the right buttons, and it seems like he lives off of whatever reaction she has. And Jake is the kind of guy who can handle whatever is thrown his way so everything about Brenna doesn't phase him. What does is how deep his feelings for her actually go but he handles them in a great way. It felt like these two were always on the same level as one another, whether it be physically or intellectually, always being able to talk about anything and everything and not once did you feel bored with them. They were entertaining and captivating and just such a spicy couple. I feel like if my love for Allie and Dean wasn't so intense and high, Brenna and Jake would be my favourite, but they can still be a close second. I just love the way that Kennedy created the tension and chemistry between these two and I think it paid off immensely in this book.
One thing I love when I read a book in this universe is that I always seem to get some kind of feminist social commentary and this was the first time I myself truly connected to it. Brenna's dream is to be a sportscaster, specifically a hockey analyst because it's the sport she was born into and grew up loving. I might not have the same dream, but the way that Brenna feels about hockey is the way that I feel about baseball and just seeing someone like her being able to converse without hesitation about a hockey game or throw a player's stats into an argument, and win the argument, kind of left me in awe. There is still this connotation that girls can't like sports or they can't watch or understand them and therefore when we talk about sports, what we say doesn't hold any merit. I wish that this ideal still wasn't currently upheld but it is, even though it's 2019. Men still think this way and it's gross. But anyways, a big part of Brenna's story was trying to land an internship at a network but because she was a woman, and the network executive was a misogynistic ass, she had to work even harder to prove herself. I love that this was something Kennedy decided to explore with Brenna and how every single point and argument she brought up was how it is in the real world. Men don't think women can have opinions on sports, men don't think women deserve to be analysts, men don't view women in sports as anything but objects, and it's way past the time for it to end. Kennedy hit so many important points here and I wish I could continue to follow Brenna on her journey of being a famous sportscaster. It's what she deserves.
I was already in love with Brenna so I don't need to go on and on about how much she continued to impress me, but I can about Jake. Oh boy, where do I even start? Jake is almost like an entirely new animal to this universe because he's the first hero who doesn't attend Briar like every other character we've met in the past. He's a Harvard boy, and the enemy of Briar in general. But in reality, Jake is actually a really great guy. When we first meet him, all he cares about is getting his team ready to win the tournament and nothing else. He kind of emits a bit of a selfish energy, especially when he enforces the rule of no distractions on his team. But as the story went on, we see how Jake develops into a truly thoughtful and caring person, so much to the point where he physically bristles when his coach compliments his selfishness. Once he really meets Brenna and spends more time with her, he realizes that the world is more than just hockey and it's more than just being this big superstar. He helps Brenna try to get the internship because he wants to get to know her better, with his whole "one real date for each fake date" rule, he drives her to god knows where when her old friend asks for her help, and when Brenna confides in him not once does he judge her for her past. He listens to her, he cares for her, he makes her feel safe. I mainly loved Jake because on the surface he does come off as a selfish, cocky jerk, but he has such a deep care for those close to him and he really does that with Brenna. It's also sweet to see him being the one who develops feelings for her first and chases her, in a way. He's a bit like a puppy that I wanna love forever.
Also can we talk about this cover? And how Miss Kennedy is putting all her girls on the covers for this series? These are the kind of covers that the NA genre deserves, people! Ugh, I love it.
THE BAD
This wasn't bad for me, though it probably is for other people, but the synopsis appeared to promise the use of enemies-to-lovers and it wasn't entirely followed through. Now, I really couldn't care less because the enemies part seemed to be focused more on Briar vs Harvard, and Brenna seemed to label Jake as the enemy where he was more infatuated with her to really care about the rivalry, and that's what I zeroed in on. It gives room for so much more fun and chemistry, how Brenna is so insistent that they're enemies but Jake is insistent that there's a spark between them that deserves to be explored. I was so here for that. I think because we knew Brenna better than Jake before we just assumed he hated her as much as she hated him, and that wasn't a fair assessment. He actually had a thing for her the whole time, and wasn't afraid to tell her, and that's the kind of thing that I love.
I feel like the epilogue could've been better. It for sure wrapped things up nicely but I feel like it needed an additional scene with Jake and Brenna together. It was cute, but I wanted more.
THE BOTTOM LINE
This romance was just so intense and steamy and was full of all the swoon worthy moments. Brenna and Jake were so perfectly matched and not only fed off each other's energy but built each other back up and ultimately supported one another. It wasn't quite perfect, but it absolutely has a special place in my heart. They were so close to edging out Dean and Allie, but not close enough. *wink*
BONUS: how this book made me feel in a GIF
ABOUT THE BOOK
Title: The Risk (Briar U #2)
Author: Elle Kennedy
Release Date: February 18, 2019
Pages: 432 (eBook)
Goodreads
Until next time,
Twitter ♡ Instagram ♡ Goodreads
What did you think of the book? Leave a comment below!