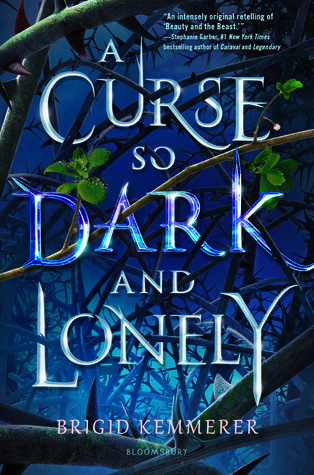 ☆☆☆☆
Fall in love, break the curse.

It once seemed so easy to Prince Rhen, the heir to Emberfall. Cursed by a powerful enchantress to repeat the autumn of his eighteenth year over and over, he knew he could be saved if a girl fell for him. But that was before he learned that at the end of each autumn, he would turn into a vicious beast hell-bent on destruction. That was before he destroyed his castle, his family, and every last shred of hope.

Nothing has ever been easy for Harper Lacy. With her father long gone, her mother dying, and her brother barely holding their family together while constantly underestimating her because of her cerebral palsy, she learned to be tough enough to survive. But when she tries to save someone else on the streets of Washington, DC, she's instead somehow sucked into Rhen's cursed world.

Break the curse, save the kingdom.

A prince? A monster? A curse? Harper doesn't know where she is or what to believe. But as she spends time with Rhen in this enchanted land, she begins to understand what's at stake. And as Rhen realizes Harper is not just another girl to charm, his hope comes flooding back. But powerful forces are standing against Emberfall . . . and it will take more than a broken curse to save Harper, Rhen, and his people from utter ruin.
Listen, we all know that retellings are essentially my brand by now and that more often than not, I will love it regardless. I'm not sure if it's due to my love for Disney or the idea of fairytales and fantasy lands, but fairytale retellings just manage to get me every single time. And this one is no different. I'll probably sound like a broken record yet again but this is one of the most original retellings I have ever read and it's why I enjoyed it so much. It was pretty much oozing in originality. I think I loved this book so much that it's hard for me to find anything to complain about but if there is, it's like teeny tiny minuscule things. That's how good it is.
I might need to reveal certain things in this review to get my love across, so a SPOILER ALERT is now in effect.
THE GOOD
The very first thing that drew me to this book is that it's a Beauty and the Beast retelling, aka my second favourite Disney movie and definitely one of my all time favourite tales to retell. It was like I had to read this book. And yes, even though it's retelling one of my favourite fairytales, that's not my point here. My point is how original Kemmerer managed to make her version of Beauty and the Beast and how much it stands out from literally every other retelling I've read, and not just of this tale. There's the fact that Kemmerer is combining two worlds together, in a way, by having her hero live in this fantasy land and her heroine come from Washington in the modern world. It was like she allowed these two different "cultures" come together and it not only helped to create some interesting drama and climaxes throughout the story but in my opinion it created a lot of comedic relief. Watching Harper realize she's been transported into a fantasy world, seeing her using phrases and slang from the modern world, or even just explaining her world to Rhen was so entertaining. I don't think I've seen something like this before and it's what makes this retelling stand out so much. I've definitely seen fairytales set in the modern world before, but not one where a modern girl is transported to a fantasy world, with two people who are well aware of her own world, and then just see the hilarity and chaos that could ensue. I really love Kemmerer and this retelling for this.
Another thing that brought so much originality to this retelling were the versions of our Beauty and our Beast. First, our Beauty is a girl named Harper who has cerebral palsy. Lemme ask you this: when is the last time you ever saw a main character living with cerebral palsy? Who is supposed to be our heroine? I know I've never seen that and it was another big factor into me grabbing this book. I love that we're getting more and more rep these days but disability representation is still lacking, so it was great for Kemmerer to do it here. And the best thing is that Harper's cerebral palsy is in no way used as a plot device nor does this story surround her having it. We don't think Harper is strong because she's living with it and no one really thinks of her as an inspiration by being a hero despite her cerebral palsy. We think she's strong simply because she is. She proves her strength and intelligence in so many ways all while normalizing someone living with cerebral palsy. Sure, she walks with a limp but girl will still hit you over the head with a tire iron and proceed to steal your horse. What an icon. Now, on the other hand, our Beast might be the best version I have ever seen of him. Prince Rhen made a typical dumb male mistake and was cursed because of it. But we don't see him brooding around or lashing out at anyone because of what happened to him. Instead, he wants to keep his country safe from his monster, going as far as cutting off trade and closing borders so no one else is in danger because of him and even attempted to end his life so his monster attacks no one else. In other retellings, the Beast just broods around and can be seen as a pretty abusive character, especially with his Beauty, but that's not Rhen's style. He essentially loses hope in his curse being broken and kind of just lets Harper be rather than forcing himself on her or making her feel something for him. He tells her about the curse and accepts that she won't break it just because he wants her to. He even agrees to help her get back to her world instead of keeping her in his palace because of the off chance she could break the curse. He's just so soft and good and respectful that it's impossible not to love him. I can't even call him a beast because he's the furthest thing from that.
The curse itself is very interesting because rather than being a monster or a beast the whole time, Rhen is himself for majority of the time. A big element of this curse is that Rhen is doomed to repeat the same fall season over and over again until the curse is broken, or until the enchantress decides when his last season is and then he'll remain a monster forever. It's interesting how this curse works because every time Rhen fails, whether it's because the girl doesn't fall for him or because he dies, by his hand or another's, the season begins again while time outside of his palace keeps going. He's repeated over 300 fall seasons while his country has passed through five years. I like seeing how time works within this curse, honestly. It's good for context. Another interesting fact is how every time Rhen becomes a monster, it's different each time. He never becomes one actual thing but it's like a combination of different animals and beasts to create this one monster. And when he's the monster, he just wants to kill. I didn't expect the curse to be like this, and be so intricate, but it's another thing that brings originality to the retelling while still keeping the source material in mind. I love it.
I honestly expected to see a lot of romance here but in the end, there was very little. I'm not complaining, because sometimes the love in tales like this seem superficial or too fast, and I felt like the romance and relationship between Rhen and Harper was quite genuine and realistic. There's no way to know if Harper really fell for him and broke the curse, but she knows that she feels something for him. And that's good enough for me.
I know you can't tell from the picture, but the cover is just beyond gorgeous. The mix of the matte and the spot gloss/emboss is perfect. Wow.
THE BAD
If I had to be nitpicky, I'd probably say that in the middle of this book there was a lot of travelling throughout Emberfall (or is it Emberfell? I can never remember) that took away from the book a little bit. I don't want to say that it was all bad, because I feel like this portion of the book really allowed us to truly see who both Harper and Rhen really are and their characterization is superb, but there were times where it felt slightly like filler and I kind of wished for it to speed up.
I'm not sure why none of the Beauty and the Beast retellings I've read never give me a Gaston character but I'm tired. I wanna see my favourite Disney villain!
THE BOTTOM LINE
If you're a fan of retellings, this book is an absolute must read. If you're not a fan, I think you should still give it a chance. This book is bursting with originality with a beautifully clever modern twist to it. Kemmerer truly succeeds in making this retelling her own and I truly wouldn't mind if she decided to write more in the future. I can wait.
BONUS: how this book made me feel in a GIF
ABOUT THE BOOK
Title: A Curse So Dark and Lonely (A Curse So Dark and Lonely #1)
Author: Brigid Kemmerer
Release Date: January 29, 2019
Pages: 496 (Hardcover)
Goodreads
Until next time,
Twitter ♡ Instagram ♡ Goodreads
What did you think of the book? Leave a comment below!