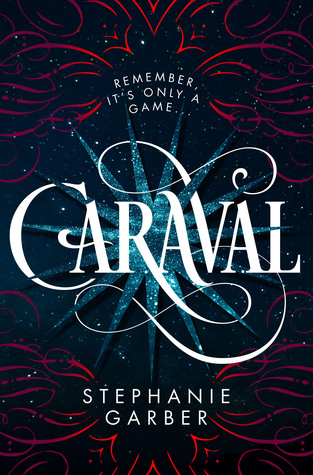 ☆☆☆☆
Remember, it's only a game…

Scarlett Dragna has never left the tiny island where she and her sister, Tella, live with their powerful, and cruel, father. Now Scarlett's father has arranged a marriage for her, and Scarlett thinks her dreams of seeing Caraval—the faraway, once-a-year performance where the audience participates in the show—are over.

But this year, Scarlett's long-dreamt-of invitation finally arrives. With the help of a mysterious sailor, Tella whisks Scarlett away to the show. Only, as soon as they arrive, Tella is kidnapped by Caraval's mastermind organizer, Legend. It turns out that this season's Caraval revolves around Tella, and whoever finds her first is the winner.

Scarlett has been told that everything that happens during Caraval is only an elaborate performance. Nevertheless she becomes enmeshed in a game of love, heartbreak, and magic. And whether Caraval is real or not, Scarlett must find Tella before the five nights of the game are over or a dangerous domino effect of consequences will be set off, and her beloved sister will disappear forever.

Welcome, welcome to Caraval…beware of getting swept too far away.
Hi, yes, hello, I have a new favourite YA series. And it took me so long to read it but that doesn't matter because I seriously, truly, love this book. I'm not typically one to read a 400+ page book in 24 hours but that's exactly what I did with Caraval. It was like as soon as Stephanie Garber roped me into this crazy game I didn't want to get out of it. And it's funny because every time I'd see this on my TBR or in the store I'd be like "I want to read you, but now's not the time", but I knew that it was something I needed to read. Would I have loved it as much if I read it when it first came out? Maybe, but I really don't know. I think I would've enjoyed it but maybe not loved it the same. I personally think I read it at a perfect time and it gave me the opportunity to appreciate it the way it deserved. The plot was addictive, the twists were perfect for the entire setting and the story, and the characters were so intriguing that I loved pretty much everyone. Part of me feels like Caraval gave me what I expected The Night Circus to give me, but it's so much better.
THE GOOD
What really did it for me was the overall plot of the book and how fast paced it turned out to be. I think Garber definitely could've dragged out Scarlett and Tella's "big escape" from their home and everything that surrounded their situation there but instead, we dove almost straight into the Caraval plot and I feel like that's what really got me truly into the book. I loved that the idea of Caraval is actually being a game and that you play and try to win, and not some travelling circus like I initially expected it to be. Making the plot of a book more of a game is what made me invest in it and kind of got my own competitive spirit up because I really wanted to see Scarlett win the game, or else the entire story would've been pointless, and I just kept reading because I needed to find out how the game ended. I think it was smart of Garber to make that the driving point of the book, and of Caraval, because it's what gets people invested and it's what makes readers not want to put it down. Garber created a solid plot and a relatively simple objective and it's so easy to get wrapped up in the magic of Caraval so she gets major bonus points for having such an investing plot.
I feel like Garber is not one to drag things out and I absolutely appreciate that because with a story like this it's so easy to drag it out as long as you'd like, but it was clear from the start that Caraval lasted five days and that's the allotted window of time, no exceptions. It allowed the reader to know what they were getting into and honestly, it would've been so easy for Garber to cut off this portion of Caraval on the third night but she didn't and it truly became a story that had a beginning and an end. I think I would've been super mad if I read 400+ pages of this and was still stuck in the same Caraval game and would have to wait for the next book to see how it would all end. She really could've continued Scarlett's story for an entire trilogy, like other YA authors typically do, but I for one am thankful she didn't. It's not a story that needs to be dragged out and thank god it's not.
Truly, all of the characters in this book were great. I can't think of a single character, other than Scarlett's father for obvious reasons, to actually complain about. Scarlett was such a great protagonist and one that you wanted to root for constantly. You wanted to see her finally get away from her abusive father and to find her own way in life rather than feeling obligated to look after her sister or marry some count because it's what her father wanted. Scarlett always had her sister on her mind and everything she did, every sacrifice, was so she could have a better life than what they had. But because Caraval is a game of wits and has you solving clues throughout, we also got to see the intelligent side of Scarlett and I enjoyed having a protagonist that wins or "becomes the hero" because of her mind and, ultimately, because of her love for her sister. Scarlett proved to be one of my absolute favourite YA protagonists I've seen in a while and I'd do anything for her. Then we have Julian who was the best kind of mysterious and slightly broody but mostly mysterious and had this air to him that had you begging to learn more of him. I thought his purpose in the story was great and with everything he did you could see how true his feelings for Scarlett were. And then there's Tella who honest to god surprised me the most and what happened to her was something I didn't expect but after that epilogue, I need to know more about her and her motives. Legend himself is still a mystery to me and I want to know everything I can about him but I'm not sure how or when that'll happen, but I really don't think he's an antagonist. I think there's a deep root to his story and everything behind Caraval and it's not as villainous as it appears to be. We'll see in time.
When it comes to writing and prose, I think Garber is incredibly smart and clever. Everything that happened in the story, every twist and turn, all the little facts and tidbits, were done for a reason and not as some kind of filler or throwaway comment. The entire time it felt like Garber has had the whole thing figured out and knew exactly what was going to happen and knew exactly how to get there. The plot twists weren't just for shock value but they made sense. The clues and steps taken to solve those clues were all meant for Scarlett and all that she learned was something she could apply both to the game and beyond. But honestly, the idea behind Caraval is to remember that it's only a game and that things might appear real but are actually not. And as a reader, you get caught up in that because you want to think things are real or you want to think they're fake and it's all a big toss up. It keeps you on your toes and makes the game of Caraval more thrilling. And with her prose, the way Garber wrote felt so easy and flowed in such a way that really prevented me from putting the book down. I particularly enjoyed how feelings were described as colours, though I can understand why people wouldn't like this, but if I pictured the actual colour myself and how it looked to me, how I've seen the colour used or how it's typically attributed, I could understand the feeling Scarlett had. I thought it was great and made me think more than before so I could connect with the story and characters in a new way. But the dialogue and thought processes never once felt stiff or that Garber was trying too hard. For me, personally, it was perfect.
THE BAD
Ok honestly, the one single thing I am mad about is that this game of Caraval lasted five days, Scarlett and Julian have known each other for maybe an entire week, but she thinks she loves him. Like girl, you've known this guy for ONE WEEK, how do you know you love him? I can't necessarily call this a case of insta-love because of what happened with the relationship but no matter how much I love Scarlett and Julian together, I can't get behind this. Granted, there was never a profession of love and Scarlett is honestly just keeping this thought to herself so it's not the worst I've ever encountered, but it's not the best. They're cute as hell, but it ain't love yet.
THE BOTTOM LINE
I might've put off reading this book for a while, but I have no regrets of finally picking it up. The magic and twisty nature of Caraval captivated me from the very start and the wonder never ceased to amaze me. In my opinion, this was what The Night Circus wanted to do with me but Caraval did it 100 times better. I kind of wish I could see the wonder of Caraval myself but only if I can win. If I'm not gonna win then what's the point?
BONUS: how this book made me feel in a GIF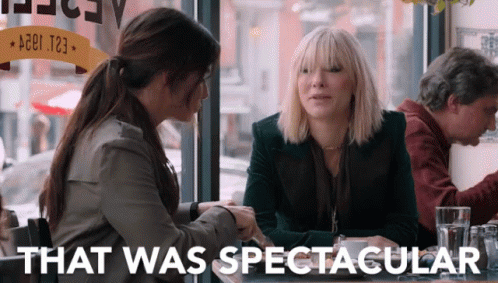 ABOUT THE BOOK
Title: Caraval (Caraval #1)
Author: Stephanie Garber
Release Date: January 31, 2017
Pages: 448 (Paperback)
Goodreads
Until next time,
Twitter ♡ Instagram ♡ Goodreads
What did you think of the book? Leave a comment below!